Birkdale Fibre Cement Slates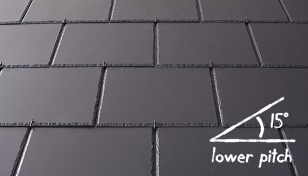 Smooth surface and dressed edges
The popular Birkdale fibre cement slate can be used for low pitch designs down to 15° (with hook fixing), offering the designer and contractor more flexible aesthetic and installation options.
The hook fixing method is specifically for 15° – 20° pitches for moderate exposure roofs. This complements our Birkdale range using conventional nail and rivet fixing for steeper pitches or for severe exposure roofs.
Featuring a smooth surface and dressed edges Birkdale fibre cement slates offer a traditional and pleasing look at an affordable price.