Finely detailed surface and dressed edge
Rivendale fibre cement roof slate features a riven surface and dressed edge, combining the benefit of modern slate technology with the look of natural slate.
Ideal for use on projects where a natural look is sought, the Rivendale has been used on a number of projects, where sustainability is high priority

Smooth surface and dressed edges
The popular Birkdale fibre cement slate can be used for low pitch designs down to 15° (with hook fixing), offering the designer and contractor more flexible aesthetic and installation options.
Featuring a smooth surface and dressed edges Birkdale fibre cement slates offer a traditional and pleasing look at an affordable price.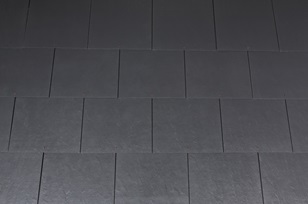 Garsdale Fibre Cement Slates
Detailed surface and square edge
Garsdale slates feature a detailed textured surface and crisp square edge.
Versatile and easy to install making them a favourite with both architects and contractors alike. Thrutone Fibre Cement Slates
Smooth surface and square cut edges
A smooth surface and square cut edges give a low profile slate at an economical price, particularly suitable to complex roof geometries down to 15°. This market leading light weight roof slate is now available in five new colours and three shapes providing even more design flexibility.